Hot
New
In stock
Pre-order
Out stock
TankMatez Fish Whisperer Bubble Fish Trap w/Silent Trap Door
Hurry! Only 967 Left in Stock!
Order in the next to get it by
Real time
19
visitor right now
PRODUCT INFORMATION
TankMatez Fish Whisperer Bubble Fish Trap w/Silent Trap Door
Eco Friendly, Fast & Effective

Minimal Stress For The Whole Tank Community

All Reef Safe Materials

Hand Made In The USA. 99% Positive Online Reviews

Innovative Design Catches Fish Quickly By Triggering Natural Feeding Instincts
Our new line of aquarium bubble fish traps now feature a fish call rattle. The fish call rattle mimics the sound of fish bones being eaten. This triggers the fish's natural feeding instincts. You can actually see the barbs stand up on some fish when you use the fish call.
The fish call does an an amazing job at attracting fish to the bubble trap. When target fish are near the trap, the mirror and bait swirl lures fish into the bubble fish trap.
Once in the trap, the bait swirl illusion distracts them. Being distracted, they do not notice the nearly invisible trap door sliding shut behind them.
Once captured, squeeze the release bulb and the bubble trap and target fish float gently to the surface. 100% touch-free with minimal stress for the target fish, you and the tank community. Includes 8 inch Timeout Bucket.

Includes: Instructions, Bait Swirl Pump, Release Line, Trap Door Line, Float Ring, Mirror & 3 Suction Cups.
Width: 3.5 Inches
Height: 4.5 Inches
Opening: 3 1/4 Inches
Width: 9 Inches
Height: 8 Inches
Opening: 5 Inches
Customer Reviews
11/18/2021
Anonymous

United States
I recommend this product
Whisperer Trap with silent door
It works but need to be patient. Leave the trap for a day or two so the fish will be familiar with it before setting up the bait/fish food. You need to keep watching afterwards to close the door once the fish enters into the trap. I was able to remove a sailfin tang.
Great tips, my friend. So happy to hear of your success. Thank you so much for your review. Cheers! :)
09/23/2021
Brian A.

United States
I recommend this product
Effective and easy to use
I had a fish I was having a lot of trouble catching. This trap did work very well. In order to do so though, I had to put the trap in, for about 2 weeks, to let the fish acclimate to it. My target fish finally entered and was captured immediately. There was no risk of escape with the trap door.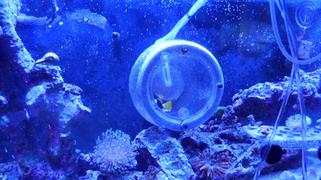 Hi Brian, thank you for such an awesome review. Congratulations on your success my friend. Cheers! :)
08/20/2021
Anonymous

United States
I recommend this product
Very good
Very good..caught the sailfin in few minutes time in 1st attempt